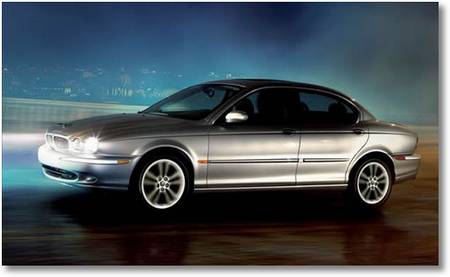 If you really want a Jaguar, but can't afford the prices they tend to come at, and aren't willing to make the sacrifice of buying a used car, you might want to take a look at the 2008 Jaguar X Type. This good looking Jag costs a lot less than other cars from this manufacturer tend to be priced at, and so it's a good option for people who want a luxury vehicle but can't afford the commitment. But if you're able to pay more and aren't to worried about who makes your car, you'll find that the X Type's rivals kill it dead in the competition.
This 2008 Jaguar X Type looks like a Jaguar all around, and that will help it out in sales to buyers who look at little more than the appearance of a vehicle. It has good style, and goes well on highways, getting up to higher speeds at a quick rate. The interior design is poor and the materials are less than should be demanded for a luxury car, even an entry level one. It lacks power an decent fuel economy, and its hard to get into the backseat without popping a lung.
Some changes have been made to the 2007 model of the Jaguar X Type, some things added, and some things removed. A lot of the pricier features previously offered as options for extra on the X Type are now standard for the current model year. For the sedan, those are
10 way power front seats with memory
rain sensing wipers
auto dimming rear view mirror
rear center headrest
If you get the Sportwagon, though, many of those options already came with it standard, except for the headrest, which has been added for the 2008 model year.
Cheers,
Fashun Guadarrama.
About the Author: Austin-1