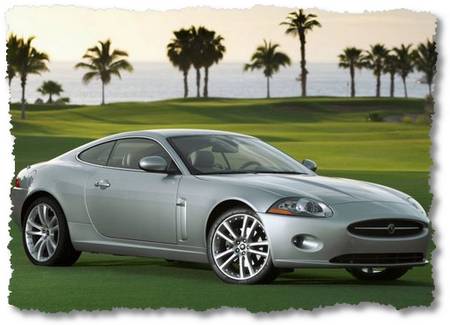 If you are on the market for a luxury car, and are particularly attracted to the body styles of a convertible or a coupe, then you definitely don't want to pass up the chance to consider purchased the 2008 Jaguar XK, an impressive offering from Jaguar for the 2008 model year. This classy car performs above the standard and is luxurious as it can be, and it takes the competition head on, driving with confidence and style.
There isn't too much concentration on any particular feature to the detriment of another, and so you won't find that it is very luxurious and performs badly, or has strong performance but few comfort features–it excels in both areas. With exquisite design both inside and out, the Jaguar XK also is light on its wheels, and if you get the convertible you can drive and let the roof go up and down as much as you want without having to wait on sluggishness.
If you purchase the base trim levels of the XK, you'll find that the acceleration is only decent, and not up to the standard that the rest of the car sets. The backseat is pretty useless, not being able to fit even a smaller person comfortable, so it's not the car to get if you need to seat more than two people regularly. It doesn't come with side curtain airbags, a necessary feature for a convertible, and the touch screen may seem great in theory, but it isn't very sensitive to the touch.
Cheers,
Fashun Guadarrama.
About the Author: Austin-1