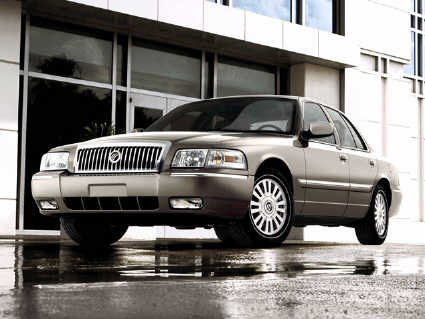 It may be almost 2008, but the 2008 Mercury Grand Marquis doesn't know it yet, and by the looks of it, probably never will. This relic of Mercury's past has stayed with the manufacturer far past its welcome, and with its thick, heavy handling and outdated design, isn't making any friends in the field of buyers who want something that's useful in this day and age. Even its rivals within the Mercury make are leaving the Grand Marquis in the dust. Safer, with more power and size, the Mercury Grand Marquis does not present the buyer with a tough decision–it's obvious: leave it.
The Good:
cheap
comfortable
V8 engine does well on torque
roomy and can fit six
does well on crash tests
The Bad:
designed like it was from the '70s
handles badly and rides like it just rolled out of bed
left behind in practically every section by rivals
Only a couple of differences separate the 2008 Mercury Grand Marquis from the 2007 Mercury Grand Marquis. Added is the option of a rear air suspension, and the Handling Package that came along in 2007 and brought with it more power and better handling is gone. If the Grand Marquis wants to catch up with its rivals, it needs to make a lot more changes than this.
A full sized sedan, the 2008 Mercury Grand Marquis has two trim levels: the GS and LS. GS, the base level, comes with the following standard:
16-inch steel wheels
front bench seat
AC
CD player
cruise control
keypad entry
automatic headlamps
Then there is the higher level, the LS, which adds the following in standard:
fog lights
16-inch alloy wheels
automatic climate control
leather-wrapped steering wheel
leather upholstery
auto-dimming rear view mirror
heated side mirrors
compass
Homelink garage door opener
There are a few options that can be added to the LS trim level, although the list isn't exactly long. Included are a CD changer, a sunroof, and heated front seats. There are also a couple of packages, such as the Palm Beach Edition Package, which comes with chrome trimmed mirrors, chrome wheels, and cashmere leather seats. On either the GS or LS you can add rear air suspension.
The 2008 Mercury Grand Marquis does well on the issue of safety, although it lacks several standard safety features and doesn't level up to its rivals in this area. It got five stars in both side and frontal impact crash tests for the NHTSA and scored Good for the IIHS. It comes with antilock disc brakes standard, and options for traction control , power adjustable pedals, and front seat-mounted airbags.
Cheers,
Fashun Guadarrama.
About the Author: Austin-1