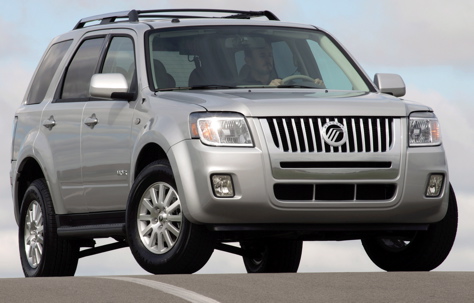 It's true that inner beauty does matter, and that even with complete makeover you can still lack the style you want or need. The 2008 Mercury Mariner brings this home. It's been made over for the 2008 model year, with a different body and interior design, but that hasn't made much of a difference. The style is marginally better than it used to be, but this compact SUV is still outdated among its class. It may look a little better, but its driving dynamics fail, especially when looked at next to the competitors.
The Good:
lots of safety features come standard
comfortable
The Bad:
fuel economy is mediocre
braking is soft
doesn't perform very well
the rear seat folds down, but not with ease
A few changes have been made for the 2008 model year, mostly an outer makeover that gives the Mariner a more hungry look. The cabin has also been redesigned, with better control clusters and colors. It's also easier to use and more practical. But the changes are only superficial, and everything under the hood, such as the powertrain or the chassis, are exactly the same. The 2008 Mercury Mariner is trying to sell itself with a pretty face even while offering the same old thing.
A compact four-door SUV, the 2008 Mercury Mariner comes in three trim levels: base inline-four, base inline V6, and Premier. Both of the base levels come with the same standard equipment, only differing in their engine types. They come standard with the following features:
fog lights
AC
tinted glass
16-inch wheels
four speaker sound system
keyless entry
Then there is the top level, the Premier, which makes an addition of the following features standard:
CD changer
leather upholstery
rear park sensor
dual zone automatic climate control
There is a short list of options that are offered for the 2008 Mercury Mariner. Class II towing preparation is one, and if you don't upgrade from the 16-inch tires, you can get a full size spare–this isn't advised, though, as it adds too much weight and affects the drive. Other options are 17 inch wheels, a DVD-based navigation system, and a moon roof.
Cheers,
Fashun Guadarrama.
About the Author: Austin-1