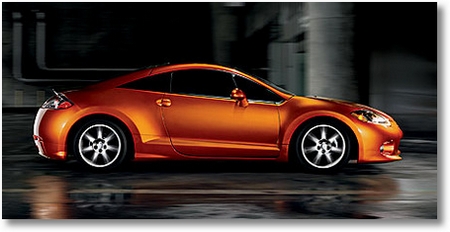 The 2008 Mitsubishi Eclipse isn't perfect, but that sure isn't making it any enemies. With sleek, futuristic style and a well designed exterior, the Eclipse is taking charge of its class of sports coupes, giving the other offers a run for their money. With above standard performing and a comfortable interior, this classy vehicle hits the road with screaming style and a enjoyable driving experience.
The Good:
V6 engines packs a punch
well-balanced
great handling
hatchback great for storage
comfy
awesome stereo
The Bad:
if you get the four cylinder engine, the performance doesn't measure up
backseat is tiny
wide turns
weighs too much
Do you want some fries with that? Mitsubishi is happy to oblige. If you get the optional stereo for any 2008 Mitsubishi Eclipse, then you automatically get satellite radio with that. There are also a few other changes for 2008, such as the loss of the SE trim level, which has now instead been crammed into an SE package.
A coupe, the 2008 Mitsubishi Eclipse comes in two trim levels, the GS and the GT. The GS comes with a whole lot of standard features for a base trim level:
17-inch alloy wheels
fog lights
AC
six speaker sound system
MP3 capability
split folding back seats
keyless entry
power mirrors
Then is the top of the line GT trim level, which adds on:
V6 engine
larger sized disc brakes
18-inch alloy wheels
traction control
outside temperature display
compass
There are two packages into which the options for this Mitsubishi model fit, called the Sun and Sound and the Premium Sport Package. The Premium can only be added onto the GT, and it is full of stuff, with heated front seats, automatic climate control, and aluminum pedals. The Sun & Sound is good too, and optional for either trim level. It comes with a CD changed, steering wheel mounted audio controls, satellite radio, and auto dimming rear view mirror.
Cheers,
Fashun Guadarrama.
About the Author: Austin-1