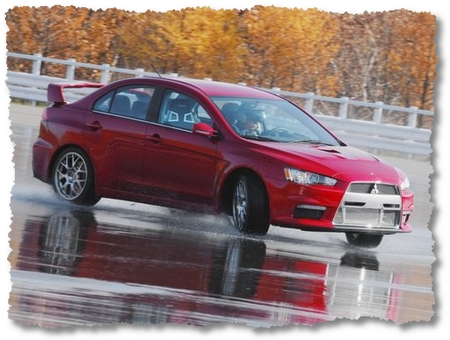 The main segment of the population of the United States that the 2008 Mitsubishi Lancer is looking to impress is the under thirty crowd, who indeed will be excited by the new release of this old name from the Mitsubishi maker. The Lancer is ready to compete, and has a lot backing it up, as well. Among compact sedans, it is one of the best when it comes to things like being well built and offering a great, long list of luxury features. Young people won't be the only ones impressed with this great model.
The Good:
forceful chassis
paddle shift automatic option for GTS
handles well
The Bad:
no option for electronic stability control
no telescoping steering wheel
no wide range of engine options
The Mitsubishi Lancer could have stood to make a few more changes than it did for the 2008 model year, but as it is, it has done quite a few. Newly designed from top to bottom, inside and out, the 2008 Mitsubishi Lander is the same size, but has a better styled exterior body, niftier driving dynamics, and many more additional features both standard and optional. This changes help the Lancer rise to the top.
A compact sedan, the 2008 Mitsubishi Lancer comes in three trim levels: the DE, the ES, and the GTS. The DE is the base level, and comes with a long list of features standard, a good start to the line up:
16 inch wheels
tire pressure monitor
four speakers
rear drum brakes
tilt steering wheel
trip computer
Then there's the ES. For the DE, you can get the Power package, which will give you antilock disc brakes and AC, as well as power door locks. The ES already comes with these, as well as:
16-inch alloy wheels
rear disc brakes
keyless entry
center armrest in rear seats
Then there is the highest trim level, the GTS, which fits into the sport option and offers the most luxury of all of the trim levels. It adds:
18-inch alloy wheels
sport tuned suspension
leather wrapped steering wheels
automatic climate control
sport bucket seats
six speaker sound system
Bluetooth connectivity
The 2008 Mitsubishi Lancer does decently when it comes to things like safety features. In all of its trim levels, it offers front seat side airbags, full length head curtain airbags, and knee airbags, as well as a tire pressure monitor. You can add on ABS to the DE, and it comes standard for the other two trim levels, which also add four wheel disc brakes.
Cheers,
Fashun Guadarrama.
About the Author: Austin-1