The Nissan Altima looks sleek from both outside and in. It's smoothly rounded exterior gives it the appearance of water–it doesn't drive down the freeway, but slides. This image translates to its handling as well, equally smooth and high-performance, enough to satisfy any car enthusiast. Nissan has been selling varieties of this sport sedan for 15 years, and now with the Nissan Altima 3.5 SE Coupe, the peak of its art is obvious.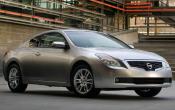 The car offers a roomy interior while at the same time being compact in size, and is perfect for fans of the Nissan sedan line. It's length has gone down about 2 inches from the last in the line, which means it isn't quite as roomy as before, but it still remains a comfortable space for up to 6 full-grown adults.
The Altima comes in either a powerful 270-horsepower 3.5 liter V6, or the calmer 175 horsepower 2.5 liter four-cylinder.
0 to 60 in 6.6 seconds
Lease expensive starting around $19,000.
firmer suspension.
The driving can be a little stiff, but for a family vehicle like the Altima, it is above other cars of its class.
Cheers,
Fashun Guadarrama.
About the Author: Austin-1