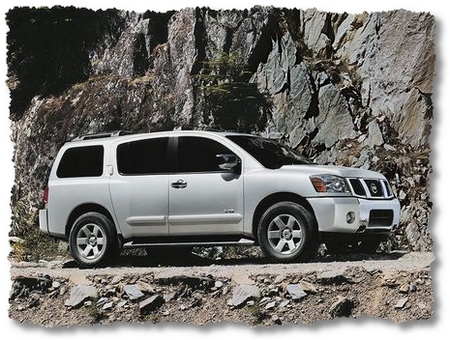 The sports utility vehicle class of cars used to be about power, rugged ability, and off the road smarts. These days, though, it has become the new minivan, with most SUVs never touching the dirt and instead working to haul around families from school to work to daycare and back. This isn't a bad use of the vehicle, but for this reason there has been the influx of so many car based SUVs that don't know anything about their roots.
When an SUV comes out that truly fits its title, it only appeals to a small number of people. The 2008 Nissan Pathfinder is such an SUV. It isn't much use for you if you're only going to drive it to work and back, but if you intend to go off the road and really work it out in harder conditions, this seven seater comfortable machine has it for you.
The Good:
nice interior
powerful range of engine choices
lots of room for seating and storage
tows quite a bit
does well off the road
The Bad:
back seats, both second and third row, fit only for children
handles and rides only competently
It has been a couple of years since the Nissan Pathfinder was taken apart and put back together again. In 2005, it was redesigned top to bottom, inside and out. Now, in 2007, lots of big changes have been put in place. The Pathfinder now offers its first option for a powerful V8 engine, never before seen in this line up. This 5.6 liter V8 engine comes from another Nissan model, the Armada, and is an option in the Pathfinder model. It drastically increases the Pathfinder's power, going up to 310 hp and 380 pound feet of torque. With this new engine, the Pathfinder can now tow seven thousand pounds.
That isn't the only thing that has changed for the 2007 Nissan Pathfinder in this model year, although it is the biggest. Some tweaks have been made on the interior, with different gauges and added cupholders as well as a display screen on the center console. More features and better ones have been added or changed, such as a navigation system that now stores music files. On the exterior, it has changed a little with new designs on the front end and wheels.
Cheers,
Fashun Guadarrama.
About the Author: Austin-1