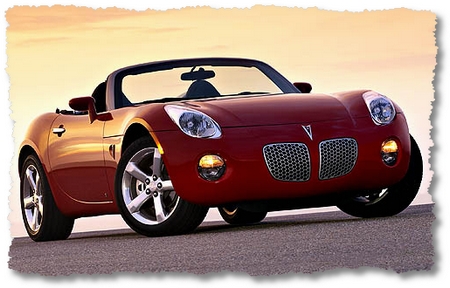 It's about time that Pontiac got some style, although with the 2008 Solstice it might have gone just a bit over the top on that end. The styling isn't quite the chic, well designed looks that most buyers are going for. Rather, it looks more like something one of the Mario brothers might drive. Not exactly what the marketing experts mean whent they advise you to target younger buyers. Aside from the look, it still does make a great, satisfying little roadster, with excellent performance and a certain way that it whips up and down curvy roads.
The Good:
unique design
grips more than enough
good price
accelerates like crazy in GXP trim level
The Bad:
in the base level, acceleration is sub par
trunk is small
no room for cabin storage
lots of wind sound on freeways
There have been several changes to the 2008 Pontiac Solstice for this model year, some of them only in name. A lot of the features that Solstice previously packaged as optional are now coming standard for the new model year. All trim levels are now available with feature slike OnStar navigation system, satellite radio, and MP3 playback for no extra cost to the buyer. As for the revised option list, there is a new package available, called the Club Sport Package. The Club Sport Package comes with tighter suspension and wheels with silver paint.
A roadster, the 2008 Pontiac Solsitce is available in two trim levels, base and turbocharged GXP. The base trim level comes with the following features standard:
18 inch wheels
manual soft top
OnStar
tilt and telescope wheel
trip computer
The GXP ups the sport component, which is already high on this flashy roadster Pontiac, and adds the following:
foglamps
dual exhaust outlets
limited slip differental
turbocharged engine
full power accessories
leather wrapped steering wheel
keyess entry
The 2008 Pontiac Solstice performed passingly on the crash tests from the government and other institutions. It got four out of five stars from the National Highway Traffic Safety Administration for frontal and side impact tests. It doesn't come with the oh so necessary side impact airbags, but it does offer four wheel disc brakes in standard and ABS as an option for the base trim level.
Cheers,
Fashun Guadarrama.
About the Author: Austin-1