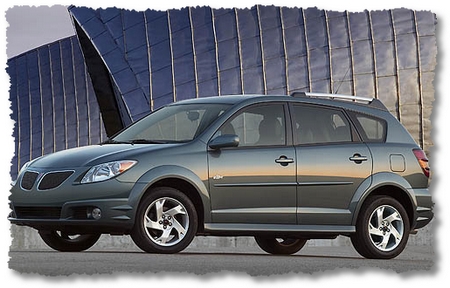 The Pontiac make's main problem is that it doesn't update quite enough for the changes of the times. This has caused many of its released models to stick too much to desireable features from the past and offer absolutely nothing to contemporary buyers looking for modern vehicle features that rise up to their standards. This is a big problem with Pontiac, and for most of its vehicles is not a good thing. However, the 2008 Pontiac Vibe is just one of those vehicles that is pretty much stuck in the past, yet at the same time it has managed to survive and thrive, and is still a good option for a cheap SUV that's practical and durable.
The Good:
lots of space in the rear seat
fun and comfy to drive
storage space easy to use
durable
great gas mileage
The Bad:
safety features that should come standard are optional for extra
accelerates slowly
Toyota is better
Nothing's new for the 2008 Pontiac Vibe in the new model year. It's still a small wagon that seats five and comes in only the one trim level, which has the following features standard:
16 inch wheels
AC
CD player
tilt steering
Not much, considering that there aren't any other trim levels to choose from, but then again, the feature list has never been Pontiac's strong point, especially not with the Vibe. There are some option packages, such as the Preferred Package, which comes with full power accessories, keyless entry, and cruise control. If you get the Sun and Sound package, be prepared for a sunroof and a better sound system. Combine the two, and you could get OnStar, too. Stand alone options are as follows:
satelite radio
17 inch alloy wheels
leather seating
The 2008 Pontiac Vibe doesn't restrict safetiness, and pretty much any neccessary or desired safety feature is available. You just have to pay to get it. Things like side curtain airbags, which you would think should be a given, don't come standard, but as costly options. Even so, the National Highway Traffic Safety Administration awarded the 2008 Pontiac Vibe four stars on frontal impact and five for side.
Cheers,
Fashun Guadarrama.
About the Author: Austin-1