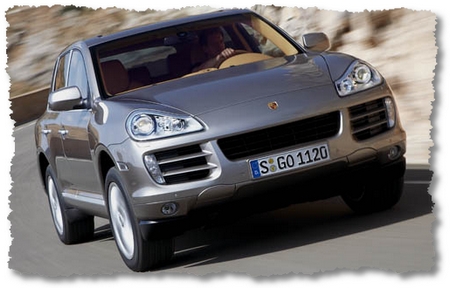 Named after the pepper, it's no surprise that the 2008 Porsche Cayenne has some spice, with its great performance on the road and its position among the top of the luxury sport utility vehicle class. It may not be the rugged choice for those that prefer a vehicle with more off the road capabilities, but it's great for anybody who wants the looks of an SUV but doesn't need to exploit its original purpose. Sporty, comfortable, and practical, the 2008 Porsche Cayenne is an excellent buying choice.
The Good:
tight performance
handles like a sports car
fun to drive
tows a lot
The Bad:
high price tag for options doesn't help already high price tag for car
can't store as much as the competition
The Porsche Cayenne wasn't around for the 2007 model year, but it has a lot to show for its year out of the spotlight with its return for 2008. Lots of changes has been made, upping the overall experience with this great SUV. New direct fuel injection ups the power even to the engines that are on the weaker side, and updated suspension provides even better handling and improved performance. Lots of new features have been added to the list of possibilities, from standard to optional, but the exterior remains essentially the same.
A midsize luxury crossover sports utility vehicle, the 2008 Porsche Cayenne is available in four trims, named for their power trains. The base trim level of the Cayenne comes standard with:
V6 engine
17 inch wheels
automatic climate control
12 speaker sound system
foglamps
full power accessories
leather seating
trip computer
powe liftgate
manual transmission
Cayenne S, the next one up, adds:
V8 engine
18 inch alloy wheels
Then is the Cayenne Turbo, which comes with:
turbocharged V8 engine
naviagtion system
active air suspension
aluminum body acents
front and back park assist
tilt and telescope wheel
bi-xenon adaptive headlights
No crash test results are available for the 2008 Porsche Cayenne, but it does come with many of the desired safety features. These include antilock disc brakes, electronic stability control, side curtain airbags, and a rollover sensor.
Cheers,
Fashun Guadarrama.
About the Author: Austin-1