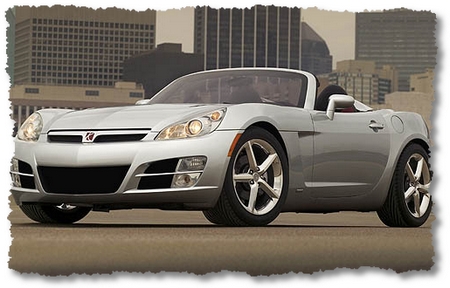 With the 2008 Saturn Sky, Saturn finally gets a sense of style knocked into it. It may not be extremely agile like the Mazda Miata, but it's plenty good for anyone willing to settle for a decent convertible at an exceptional price. It's not only a good looking, well performing roadster, but it's also a practical companion for everyday use, something that you can't say about very many fancy, just for show roadsters out on the market that don't get to flaunt such low prices as the Sky's.
The Good:
cheap
Red Line trim pumps it up
drives well on highway
plenty of space in cabin
well designed
The Bad:
hard to get at the cramped trunk
poor ergonomics
have to leave car to lower or lift the soft top
This is only the Saturn Sky's second year on the market after its applauded release in 2007, so there aren't many big changes being made on this year's model. There are couple of new things, such as the standardizing of such features as stability control, satellite radio, and limited slip differential. You can now customize more on this roadster by picking any color combination you like for any side of the car.
A roadster that seats two, the 2008 Saturn Sky comes in two trim levels. The base level comes with the following equipment standard:
18 inch wheels
limited slip differential
manual cloth top
full power accessories
AC six speaker sound system
satellite radio
You can also opt for an extra speaker on that sound system that comes with a CD changer for the dash, and the Premium Trim package which adds a leather wrapped steering wheel and leather upholstery. At the top of the line comes the Red Line trim level, which comes with:
what comes in the Premium Trim package
performance tires
sport tuned suspension
Cheers,
Fashun Guadarrama.
About the Author: Austin-1