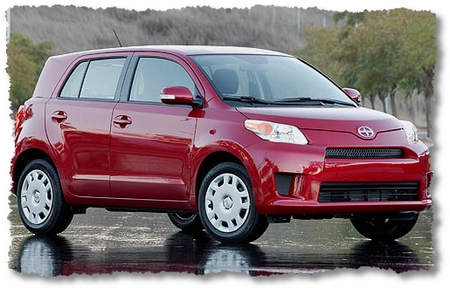 There is a certain insane edge to the 2008 Scion xD. It looks a little like an rhinoceros with wheels escaped from the zoo (or the lab?) and it's name appears to be a crazy person laughing. This may be a little off putting at first, but the truth is that the 2008 Scion xD can afford to be a little off kilter. It can do so because it is comfortable in its own quality, its own unique style, and its own driving abilites. Among the top of its class, the 2008 Scion xD doesn't have very much to worry about.
The Good:
lots of options for audio systems
plenty of standard features
lots of safety features standard
dealer installed customizing features
The Bad:
tiny trunk
weird gauges
not much space in the front of the cabin
2008 is this baby's first birthday, as the 2008 Scion xD is released to take the place of the former xA, a reasonable descision, that the xA was one of the Scion line's least successful vehicles and needed a real overhaul. The Scion makers just decided to give it a new identity. A hatchback with four doors, this uniquely designed vehicle performs with energy and verve and has plenty of standards and options to make any modern driver comfortable and happy.
A four door sub compact hatchback, the 2008 Scion xD only comes in the one trim. For such a low price, it is extremely well equipped with the following long list of standard features:
16 inch steel wheels that include three cover options
AC
full power accessories
cruise control
tilt wheel
six speaker sound system
iPod port
If you aren't satisfied with all that, though, there are plenty of extras that can be added, such as alloy wheels, different looking shift knobs, a rear spoiler, and a silver wrapped steering wheel. You can get a better sound system that's a little mor easier to use than the already great Pioneer that comes standard and you can also download pictures onto a head unit. Also available are navigation operated by a touch LCD screen, and a range of satellite radio options.
Cheers,
Fashun Guadarrama.
About the Author: Austin-1