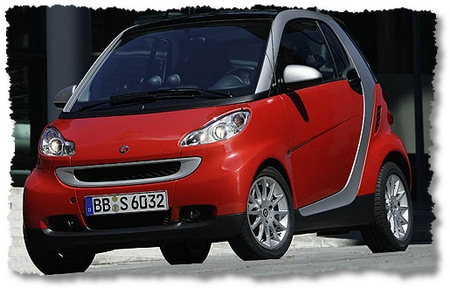 The 2008 Smart Fortwo drinks fuel like a connossieur drinks expensive wine. Slowly, tastefully, and only enough to get the main idea. This tank is easy to fill and hard to empty, making the Smart Fortwo one of the most economic cars out there on the market. The main problem, though, is that it's not very practical and was designed mostly for people who are often stuck in heavy downtown traffic. If you already have another car for other occasions, the 2008 Smart Fortwo might be a great, money saving option for getting to and from work, but as an only car it just doesn't make sense, and larger cars can be gotten for the same price.
The Good:
defines fuel efficiency

fits everywhere

easy to take around town

cute and eye drawing

well designed cabin
The Bad:
same price as much bigger and more equipped cars

so tiny that if you get in a wreck, you will be smushed

engine just doesn't cut it for highways
Not only is the 2008 Fourtwo a new model for this year, but its maker is also a brand new face on the United States auto sales market. That doesn't mean it's new to the business or completely unexperienced, but for the time being the Fourtwos are being offered at a limited basis at a few dealerships around the U.S., such as those for Mercedes Benz or United Auto Group.
A subcompact car that comes with two seats, the 2008 Smart Fortwo is available in two body styles of hatchback coupe or cabriolet. The coupe is available in trim levels Pure or Passion, and the base Pure comes with:
electric rear window defroster

remote entry

15 inch steel wheels

leather steering wheel
Next up is the coupe Passion, which adds:
sport steering wheel

power heated side mirrors

panorama glass roof

shift peddles
Then, in the cabriolet body style, is the Passion, which also comes with:
six disc CD changer

manual canvas top
Official crash testing scores have not been taken for the 2008 Smart Fortwo city car, but it has gone through the tests by the National Highway Traffic Safety Administration and passed. It comes with antilock brakes, side airbags, safety cell rear and front crush zones, and stability/traction control.
Cheers,
Fashun Guadarrama.
About the Author: Austin-1