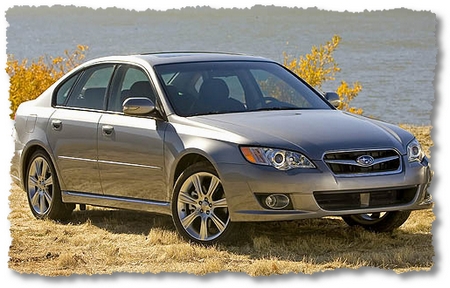 Everybody wants something but needs another. You know it, I know it, we all know it, so why not just admit to it? Here's the 2008 Subaru Legacy to help you let it all out. This car speaks to all of the people who want that little sedan but have to get a clunker family car. You can still get one and pretend it's the other, which is easier than usual to do in this family car that drives like a sedan. With four doors and exceptional safety features and ratings, the Legacy is a great option for a family vehicle that doesn't have to seem like one.
The Good:
exceptional materials in interior
well designed exterior and interior
handles with ease and pep
rides well on highway
performs great with GT
all wheel drive comes standard
did great on crash test scores
The Bad:
trunk and rear seat limited in space
stability control and navigation systems restricted
higher trim levels cost you
The 2008 Subaru Legacy is neither overhauled nor untouched. Rather, it has a few surface changes and a couple that go deeper than that, but nothing to really get excited about. Another trim level has been added in the 3.0 R Limited, a sporty version. There's a new look for the instrument panel and the loss of the body style of the wagon. A few more features have been added standard, such as a tilt and telescoping wheel and an auxiliary audio jack.
A midsized sedan, the 2008 Subaru Legacy comes available in six trims, which are the 2.5i, 2.5i Special Edition, 2.5i Limited, 2.5 GT Limited, 2.5 GT spec.B and 3.0 R Limited. The 2.5i, which is the base edition, comes with the following features standard:
AC
17 inch alloy wheels
remote entry
auxiliary input jack
tilt and telescope wheel
trip computer
Then, next up is the 2.5i Special Edition, which adds:
power driver seat
moonroof
Third is the 2.5i Limited, which comes with:
heated exterior mirrors
leather seating
dual zone automatic climate control
heated seating
windshiel wiper de-icer
CD changer
On the next level of trims is the 2.5 GT Limited, one of the sporty trims, which comes with:
SI Drive
turbocharged engine
limited slip rear differential
steers faster
brakes bigger
sports seats
three spoke steering wheel
Next is the 2.5 GT spec.B, which comes with:
sport suspension
Bilstein dampers
18 inch alloy wheels
performance tires
navigation system
ground effects
alloy pedal covers
Finally, at the top of the line, is the sporting 3.0R Limited, which adds:
six cylinder engine
paddle shifted automatic transmission
Sadly, you can't get stability control nor a navigation system on the lower trims, but if you get a mid level to high level trim then you can pay extra to have them added as optional features.
Cheers,
Fashun Guadarrama.
About the Author: Austin-1