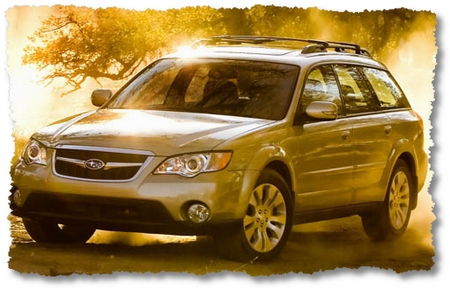 Crossover sports utility vehicles tend to be marketed towards families, which is only one reason as to why size an often be a major component in deciding whether or not a vehicle is right for you and your family. If your family is on the smaller end, or it's just you, then the 2008 Subaru Outlook might do you good, as it does perform well and drive straight through all kinds of weather and road conditions. However, if you need that space aspect, you'll do better looking around the market for other SUVs oriented more to larger family sizes.
The Good:
handles well
balanced
fun to drive
powerful turbocharged engine option
well chosen materials
strong in hard weather and slippery roads
great on crash tests
The Bad:
cramped in the rear seat
performs badly with automatic transmission
no option for stability control for lower trims
A couple of changes have been made in the 2008 model year for the Subaru Outback, although nothing so major. A couple of the changes include new features added to the list of standard equipment, like an auxiliary audio jack and a tilt and telescoping wheel. Lost is the sedan body style and a better designed instrument panel joins the cabin area in a slight retake on its style.
A midsize wagon, the 2008 Subaru Outlook comes available in seven trim levels, enough to make your head spend. It's equipped with all wheel drive and keeps it short with the option packages, using the trim levels to get that across instead. The base level comes with the following standard:
roof rails
AC 16 inch steal wheels
tilt and telescope wheel
outside temperature display
satellite radio
remote entry
full power accessories
Then is the 2.5i, which adds:
roof rail crossbars
17 inch alloy wheels
limited slip rear differential
de-ice wipers
front seats are heated
heated mirrors
Next comes the 2.5i L.L. Bean, which comes with:
CD changer
dual zone automatic climate control
navigation system
2.5i Limited loses the navigation system, but comes with:
double panel sunroof
leather upholstery
The 2.5i Limited L.L. Bean comes with all of the above. Finally is the top of the line 2008 Surbaru Outback XT Limited and 3.0 R L.L. Bean, which have turbocharged engines and come with everything above, but only optioned for the navigation system. The real thing that sets them apart is the beautiful interior design.
Cheers,
Fashun Guadarrama.
About the Author: Austin-1