We got a car in our repair shop the other day that the owner of the vehicle stated he had replaced the alternator 3 times in the last 6 months, and of course it was in our shop because……drum roll please……it needed ANOTHER alternator.
When removed the alternator we immediately noticed the problem causing his repeated alternator failures. Engine oil is leaking and dripping down and inside the alternator causing the alternator to burn out. (see the black stuff on the left part of the picture, that is dried up engine oil from his leak, I bet there is just as much on the inside as the outside)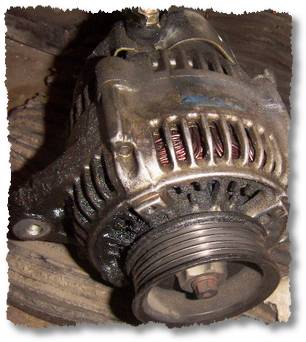 He can replace the alternator all he wants, but if he does not repair the oil leak the problem will continue. The alternator has vents or slots on the case to help cool the inside of the alternator.
These vents can also allow outside debris such as engine oil, coolant from a coolant leak, flood water from the road etc. etc. to enter the alternator and burn out the electronics.
His alternator also has some blue marker text on the top of the alternator which is usually a good indication that this alternator came from a JUNK YARD and is not "new". It might be a "new" alternator for his car…but it is not a newly built alternator.
Speaking of "new" alternators. Rarely do you buy a NEW alternator, you usually buy a rebuilt alternator. Although it is shiny and looks new, it was once on someone else's vehicle, they bought a rebuilt alternator and in exchange gave their old alternator back to the repair shop or auto parts store so that alternator could then be rebuilt and resold to the next customer. This is very common and nothing to be gunshy about.
Blessings,
Austin Davis
Austin Davis, consumer car repair advocate. "Hi there! I love to help people solve their car repair problems and I hope my site was helpful to you today. Thank you for stopping by."