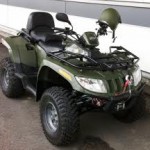 Oh man, my 2004 Arctic Cat 400 4X4 4 wheeler ATV won't start today and there is NO spark to the spark plug. I have checked the fuses, ignition coil and grounds and even unplugged the rectifier which when goes bad can ground out the rest of the electrical system….but nuthin worked, nuthin.
OK, I give up! I then called my good friend Jason Tuch, THE go to motorcycle, jetski, ATV repair guy in Houston Texas. Actually he is in Magnolia just a little North of Houston but worth the drive.
So Jason took at look and said "no spark, you are correct"…and he double checked what I have previously checked just to make sure I did not jump the gun and over look something easy…and cheap. Dang it, I did not over look anything easy.
He then checked the ohms out of the stator/CDI and determined that the problem was internal and needed to remove the side cover, which ain't that easy. Just as others on the net forums were talking about, the flywheel weights that were GLUED on all came off. I needed a new flywheel that was obvious, but what about the stator…and the CDI?
I was trying to save money, so I ordered a new flywheel from Arctic Cat (I did not find an aftermarket flywheel anywhere) for $480 and a side cover gasket for $28 and had it special ordered and shipped to me.
Jason then installed the flywheel and we crossed our fingers on the stator….dang it, the stator is bad too. We did not know that 100% before installing the flywheel so we took a gamble.
OK, remove the side cover again and install the new stator (found an aftermarket stator for $225 compared to $500 for an OEM) and another side cover gasket.
All fingers crossed that the CDI is ok, I will update this post when the stator is replaced.
Need to order Arctic Cat Parts (oem and aftermarket) call Cameron Campbell at Eastside Honda and Texas ATV and let him ship it to you. Great guy, very helpful and tried hard to save me money. 281-385-0700
If you live in Houston or any surrounding areas call Jason Tuch and get him to do your work. Great guy, goes the extra mile and really tries to save you money but does not skimp on quality. 713-870-1117, but please don't waste his time unless you are going to take your machine to him. I mean it ): His site is www.lakeconroejetskirepair.com
Stator $225
Side gaskets $28 (actually needed to order two but only factoring in 1)
Flywheel $480
————
Total = $733 Just in parts!!!!
UPDATE – I picked up my machine today, we did NOT need the CDI, so the new stator and flywheel fixed the problem.
Watch the video….see if you still want to put this kind of money in your ATV
Austin Davis, consumer car repair advocate. "Hi there! I love to help people solve their car repair problems and I hope my site was helpful to you today. Thank you for stopping by."