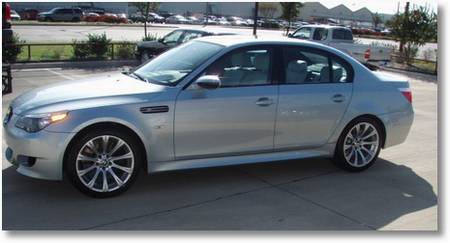 Fans of the manual transmission will be happy to know that the BMW 5 series comes with the option, which is a rarity for cars of its kind. Most luxury sedans like itself are equipped only with the automatic transmission. This car, however, stands on its own in many ways, regardless of the style variation within the model. It's excellent brakes and sensitive steering contribute to the altogether easy, competent driving experience of anyone behind the wheel of one of these classy BMWs. And in 2007, it comes similar to previous versions, but with a few more options in the update.
From 2006 it retains its brand new magnesium alloy V6 engine in the 525/530i, and the improved V8 for the 550i. The M5 even comes with a mind-blowingly powerful V10 engine. The BMW 5 series is a car that meets all the standards of its kind, keeping smaller on the outside while still providing plenty of space and comfort within. It provides plenty of features, and it can leave even sports cars in the dust. Not to mention it has all kinds of technology, although this may make the experience difficult at first. Still, once you learn to deal with it, it is an obvious improvement. The i-Drive, for example, takes some time to get used to, but it is a fantastic achievement.
The 525i:
3.0 liter with 215 horsepower
10 speaker sound system
climate control with micro filtration
Leatherette upholstery
17 inch alloy wheels
rechargeable flashlight with four outlets
Options include:
Premium package (Dakota leather upholstery, garage door opener, ambient interior lighting, auto-dimming)
x-permanent all wheel drive
The 530i:
3.0 liter 255 horsepower
xenon adaptive headlights
standard or manual
Options are:
Premium package
six speed sequential manual gearbox
six-speed steptronic automatic
x-permanent all wheel drive
The 550i:
4.8 liter 360 horsepower
Comes standard with premium package
Park distance control
Manual/AMG/automatic
The M5 (the big one):
hand built 5.0 liter 500 horsepower V10
enhanced suspension and brakes
With options:
HD radio
night vision
Cold weather package (heated seats, steering wheel, and heated headlight washers)
Sports package
Active steering/active body control systems
18-inch performance tires
Logic7 sound system
6-CD changer
navigation system
Sirius satellite radio
cruise control with radar
The prices for all of these vehicles are steep, ranging from just under $44,000 for the 525i to just above $81,000 for the M5. But they are stacked to the brim with safety features and other features, including front airbags wit dual threshhold deployment, front passenger and curtain airbags; seatbelt pretensioners; force limiters; antilock brakes with Dynamic Brake Control; auto-proportioning; Dynamic Traction and Stability Control; SOS button; automatic collision notification; and roadside assistance.
Cheers,
Fashun Guadarrama.
About the Author: Austin-1