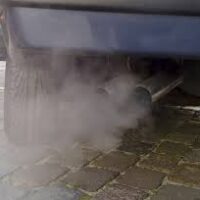 Do you have smoke coming out of your exhaust? Evidently many TrustMyMechanic fans do, because this is one of the most frequent "Help!" messages I get…followed by:
What does it mean?
How alarmed should I be?
Is it safe to drive my car to work?
What in the world is THIS going to cost me???
After I talk them down from the ledge, I take them through a series of questions to help determine what is going on. A smoke-producing tailpipe is never what you want to see happening to your car, but it doesn't always mean that there is something serious wrong with your engine.
First, watch the exhaust with the car running to determine the color of the smoke. There are three types of smoke your car may be producing: white, blue, and black, and you can get a lot of information just from the color.
White Smoke
White smoke is produced when antifreeze and/or water leaks inside the engine cylinder, where the gasoline is being compressed and burned. The smoke is actually steam caused when this coolant gets burned up with the fuel. Any amount of coolant present in the cylinder will produce this white smoke, which will get exhausted out the tailpipe.
If it's white smoke you are seeing, examine the radiator and overflow container to find out if you have the right amount of antifreeze. Then check your engine oil dipstick and the underside of the oil cap for signs of antifreeze contaminating your oil. Your oil will look like a chocolate milkshake if it's got antifreeze mixed in with the oil.
If you see any evidence of antifreeze in your engine oil, DO NOT start the engine. Your car probably has a blown head gasket allowing the fluid to leak in, and you can cause serious (expensive!) engine damage by running the engine. The head gasket usually fails because of excessive heat and pressure when the engine overheats. You will need to repair the head gasket and determine/repair the cause of the initial engine overheating before you can drive this car.
If you are dealing with white smoke, don't miss this video with invaluable information on your problem and how you can save thousands on this kind of repair.
Blue Smoke
Blue smoke is created when oil leaks into the engine cylinder where the gasoline is being compressed and burned. As with the coolant causing white smoke, any amount of oil in the cylinder will cause blue smoke from the exhaust.
There are several gaskets, seals, and O-rings that can fail and allow oil to get inside the engine cylinder. This kind of oil leak is fairly common in higher mileage cars just from the wear these parts have experienced.
Unlike white smoke, you can continue to drive a car with blue smoke without causing immediate damage to the engine. A common remedy is to put in heavier weight engine oil and a special oil additive that can help reduce the oil's ability to leak into the cylinder.
Excessive oil in the cylinder will foul the spark plug and cause the engine to miss or "misfire." If this occurs, you will have to clean or possibly replace this spark plug.
Black Smoke
Black smoke is produced by excessive fuel in the engine cylinder. If the car is letting too much gasoline into the cylinder, the engine can't use it all as fuel fast enough, and the excess gasoline causes this black smoke as it heats and burns. Your car is said to be "running rich" and of course results in pretty bad fuel mileage.
Even though it is the scariest to see, black smoke is actually the least cause of alarm. But, before driving the car again, check the oil dipstick and cap (like I mentioned before with white smoke) to make sure the gasoline hasn't contaminated your oil. If there is gasoline in the oil, the oil won't change color but will be much thinner and more "watery" than it should be, and you should be able to detect a raw fuel odor. DO NOT start the engine if there is any indication of fuel in the oil or you can cause internal damage and possibly catch your engine on fire (yes, I learned that the hard way).
There are several parts that may have failed to allow the excess fuel in the engine cylinder. You may have a faulty fuel injector, a damaged fuel pump, or a carburetor problem. It can also be a malfunction in the car's computer or a computer sensor. You will need to have the car repaired to correct the cause of the smoke and odor, poor fuel mileage,and sluggish engine performance, but as long as the fuel hasn't leaked into your oil, you can still drive the car until you can get this done.
I hope that this information has been helpful to you in determining the type and possible cause of the smoke coming out of your exhaust system. Make sure to pass on everything you have already determined about the problem and symptoms to your mechanic to aid in his quick diagnosis and repair of the car.
Blessings,
Austin Davis
Austin Davis, consumer car repair advocate. "Hi there! I love to help people solve their car repair problems and I hope my site was helpful to you today. Thank you for stopping by."