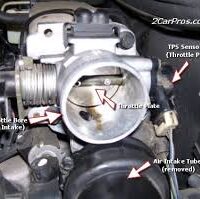 MY CAR STALLS AFTER I DRIVE IT FOR AWHILE.. USUALLY WHEN SLOWING DOWN TO 100RPMS OR LESS AND WHEN I STOP. SOMEONE SAID SOMETHING ABOUT COILS BUT WHEN I WENT TO CHECK PRICES THERE WHERE SO MANY. CAN YOU GIVE ME SOME HELP PLEASE? THANKS JODY
Hello there Jody,
The very first thing I would do is clean your throttle body and idle air control motor. You can get just about any repair shop and most fast lube places to do this for you, usually while you wait. Its cheap and easy to do and should be part of your regular maintenance routine anyway.
A dirty throttle body can cause slow starts with extended cranking, rough erratic idle speed and dying at slow speeds and stops. The engine will usually start back up with little problem.
A problem with the coil or ignition module will usually not allow the engine to restart until those parts have had time to cool down….about 30 minutes. Those electrical items tend to overheat and shut down, requiring time to cool off to operate properly.
Since you did not mention you had to wait to restart, I would start with the easy stuff first and rule out a throttle body that needs to be cleaned first and go from there.
This really should be done periodically anyway as part of your regular maintenance, about every 30K miles.
Watch my video to get a better explanation of what I am suggesting.
Keep me posted.
Blessings,
Austin Davis
Austin Davis, consumer car repair advocate. "Hi there! I love to help people solve their car repair problems and I hope my site was helpful to you today. Thank you for stopping by."