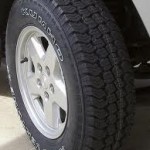 Austin, can you please give me an approximate amount as to how much it would cost me to mount and balance 4 new tires on my Toyota Camry?
Thanks,
Linda
Hi Linda,
My approximate guess for mounting and balancing 4 tires on a vehicle is about $50 to mount them and $35 to balance them, but that price can change from place to place.
For instance, there is a tire shop here in Houston that will mount the tires you buy from them for free and charge you $20 to balance them…but their tire prices are slightly higher than other shops so the mounting fee is basically built into the tire price.
There are many tire shops now offering lifetime balancing if you pay an additional fee in advance with your new tire purchase. So you buy the tires from XXX, if you pay $125 for their lifetime balancing offer they will mount and balance the tires today and will also rotate and balance the tires usually every 12,000 miles for free.
I bought tires for my truck at NTB 2 years ago and needed to have them balanced the other day and was close by their shop and in a hurry so I stopped in. I did not buy the additional tire balance or free rotation at the time of tire purchased by they still rotated and balanced my tires for free because I bought the tires from them.
They did try to sell me some new brakes, which honestly was needed and justified so that is why they do these free rotation services to see if they can find other issues that they can sell. Smart business.
BTW, I prefer to buy tires from national tire chains like Discount tire, NTB, Walmart, Costco that have stores in major cities that can honor their warranty when I travel.
And one last thing, don't skimp on tires!  Spending a few bucks more now for a top rated name brand like Michelin will save you money in the long run. They last longer and have fewer issues like weird tread wear patterns, the need for constant rotation and balance, excessive noise etc. etc.
Blessings,
Austin Davis
Austin Davis, consumer car repair advocate. "Hi there! I love to help people solve their car repair problems and I hope my site was helpful to you today. Thank you for stopping by."