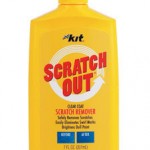 I get a lot of email questions asking about car wax and scratch remover products so I decided to make a video of one of the products you might want to try yourself and see if you get as good of results as I did. The product is called Scratch Out, made by Kit and is available at your local auto parts store and on Amazon etc.
It works pretty good for small surface paint scratches, swirl marks left by an electric buffer and hard water spots. If you can rub your thumb nail over the scratch and it wants to stick inside the scratch…it's probably too deep for anything to repair other than repainting. If your nail does not get stuck in the scratch, then try using Scratch Out and see how it looks.
Just use a small amount, and apply LIGHT pressure in the direction of the scratch (not in circles) overlapping the scratch by a few inches. Here is a video I made of me removing a very small scratch in my wife's new vehicle…sorry the scratch is not bigger, no wait, not sorry….glad it was not bigger. :)
Blessings,
Austin Davis
Austin Davis, consumer car repair advocate. "Hi there! I love to help people solve their car repair problems and I hope my site was helpful to you today. Thank you for stopping by."