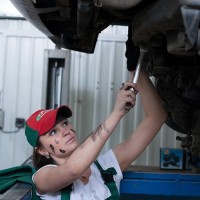 Several "mechanic exposes" in the news the last few years have offered this advice to consumers: Always ask your mechanic for the old parts he replaces when he repairs your car. So have you heard about this tactic and are following this advice? Do you feel protected from getting ripped off now?
A few years ago I did an experiment that involved a new customer to my shop. She diligently asked me to keep her old parts before we started working on her car. (Thankfully she remembered to ask me BEFORE the repair because new customers who want their parts back afterward and make me dig through trashcans for them don't make my "favorite people" list.) So when she came in to get her car, I handed her a used air conditioning compressor and told her it was the water pump we had replaced. She believed me and was thankful I had returned the old water pump as requested! So here's the point: She would have left my shop thinking that she was protecting herself from being taken advantage of, and what a false sense of security that little exercise would have afforded her. Of course, I explained my experiment and then gave her the correct part. And then I gave her some advice to really help her protect herself and her car.
Do your homework ahead of time so that you know what part you are discussing with your mechanic. Educate yourself about what the part does and how it works so you can understand what he is telling you about the repair. Find out what the part LOOKS LIKE, and document everything about the repair on the invoice. Have him keep your old parts in the boxes for the replacement parts and document the date and repair on the box.
Whenever your car needs a critical component replaced, always request dealer or name brand parts. I consider any part that could compromise your safety or leave you stranded to be a critical component. Examples would be fuel and water pumps, starters, and alternators. Your mechanic can help you to decide whether the repair needed involves critical components which would justify going with the more expensive parts. Even though you may pay a little more up front, you will be glad you bought them in the long run, and here's why.
A customer's friend was visiting from out of town when his fuel pump broke. He had the pump replaced at his usual repair shop about fifteen months before and had requested that the mechanic install the dealer replacement pump. His mechanic does warranty his work for twelve months, but he was now out of the warranty period and hundreds of miles away from home. I helped this man get his car towed to my shop. He had his copy of the repair invoice which showed the brand name of the pump. (It was very smart of him to have the mechanic document the brand name of the pump on the invoice!) My shop maintains a very good relationship with our parts supplier, so I had no trouble getting them to honor the manufacturer's warranty on the part. His cost for this unforeseen repair was the tow charge and some labor to replace the fuel pump, saving him $497 for the part.
It was great to be able to help this customer, and I made some money on the repair too. But…I would not have been able to save him five hundred dollars if his mechanic has used another brand of fuel pump and if I hadn't had a good relationship with the local vendor for this brand. In addition, we've found that some parts are only sold in a certain area or region of the country and may not be available in every city. And store brands can only be returned at that particular franchise.
Remember to have the mechanic record the brand name of the parts being replaced on the invoice. Ask about the warranty for the part, both his warranty on his work and the manufacturer's warranty on the part, and write this information on the invoice as well. Sometimes mechanics don't want to volunteer this information, so be extra nice and polite when making this inquiry. I know of two brands that offer lifetime part replacement, so if you have one of these parts on your car and have the right documentation, you will only have to pay labor if the part breaks in the future.
Hope this insight will help you keep your car maintained as easily and inexpensively as possible.
Blessings,
Austin Davis
Austin Davis, consumer car repair advocate. "Hi there! I love to help people solve their car repair problems and I hope my site was helpful to you today. Thank you for stopping by."