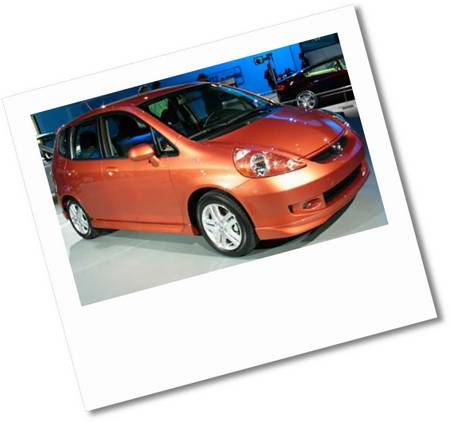 Looking for a car is sometimes like looking for a life partner. Especially in rural areas, or even in cities that are laid out with everything at a distance, having a good, reliable car can be absolutely necessary. Even your happiness can depend on it. Well, at least your stress levels can. So whenever an automobile like the 2007 Honda Fit comes out, you have to look at it and wonder. It doesn't have all the flashes and whistles (unless you want them) that many cars might come with, but it has a very reasonable, dependable air about it, and that first impression holds up.
The key word for the Honda Fit is efficiency. In gas mileage, for one, it gets 33/38 city/highway miles, thanks to Honda's VTEC technology, which allows it to sport such reasonable gas mileage while still packing 109 horsepower. It handles excellently in most conditions, not flinching even when the road gets a little bumpy, and its five speed automatic has paddle shifts, which do nothing but add to the experience. The Fit is a nice little vehicle with personality, perfect for someone who has a lot on their mind and just wants to stop worrying and drive.
With seating enough for five passengers, it's great for families and friends, and the back seats fold down, allowing for you to shove in as many groceries or camping equipment as you see fit. The Honda Fit comes in two versions, both of which are pleasing to the pocketbook. The basic version is priced around $13,850, whereas the sport version comes in just a little higher at $15,170. It's a four door hatchback with options of either manual or automatic five speed transmission and a 1.5 liter four cylinder engine.
The basic Fit comes with
fabric upholstery
four speaker sound system
cargo lights
map
remote fuel filler release
air filtration system
14-inch steel wheels
Whereas the Sport comes with all of the above, as well as
15-inch alloy wheels
front and rear spoilers
side skirts
keyless entry
fog lights
anti theft system
two more speakers
The safety features include several airbags, three point seatbelts for all with tensioners in the front seats, and LATCH child seat tethers. It also comes with crash prevention in the form of the ABS and electronic brake-force distribution.
Cheers,
Fashun Guadarrama.
About the Author: Austin-1