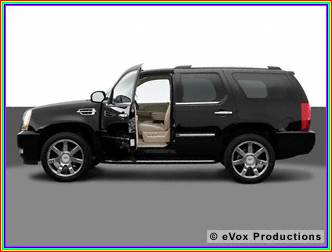 Just the name Escalade suggests that once you get in, you'll be sitting in the lap of luxury, and this luxury SUV isn't one to disappoint. Coming from Cadillac, which has a history of being pleasing to the senses, there is still more to this vehicle than what meets the eye. With more style, more power, and more features than any SUV before it, the Escalade breaks new ground while making it look like the road was rolled out before it on red carpet already.
The Escalade comes in three types: the standard, which is kind of like the Chevy Tahoe; the ESV, Suburban-sized; and the EXT a combination that goes from pickup with an eight foot bed to a five person passenger vehicle in minutes. All three have a 6.2 liter V8 engine with a remarkable 403 horsepower and a six speed automatic transmission. Manual shift control also included, marking the individuality of the Escalade series. The standard comes with rear-wheel drive with the option of upgrade to full-wheel, whereas the other two only come with full-wheel.
Some of the options are
Climate package: heated steering wheel, heated/cooled front seats.
Information package: automatic headlights, navigation system, rear camera, entertainment system.
second-row bench seat
sunroof
power folding back row seats
22-inch wheels
white diamond exterior
On the safety side, this wide and roomy vehicle is equipped with anti-lock four wheel disc brakes and an electronic stability control system along with rollover sensing and pressure monitors. All in all, this car is safe, roomy, stylish, and classic.
Cheers,
Fashun Guadarrama.
About the Author: Austin-1