One of the best minivans out right now is the Honda Odyssey, a roomy number that can hold up to eight passengers with rooms to spare. Easy to drive and enjoyable, too, this minivan combines some of the best design with the greatest features to make it a perfect pick for a family car.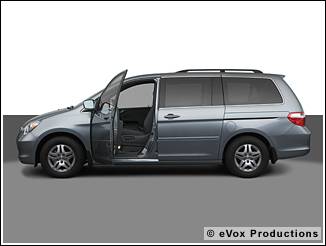 All of the Odysseys come with a 266 hp V6 engine and five-speed automatic transmission. They also include safety precautions like side curtain airbags and electronic stability control.
Many of the minivans on the Odyssey van are very affordable, offering a great option for families looking for something within their budget. However, some of the best features only come with the vans near the higher end of the line and cannot be added to the lower priced vehicles, such as the navigation system.
The LX is the most affordable and comes with
sliding doors
seat controls
air conditioning
air filter
power locks
remote entry
power windows
fold down rear seats
It also comes with a very useful storage space between the front and middle seat. Originally meant for a spare tire in the older models, in the newer model the spare tire space was moved to its usual place in the back, but the original storage space remained for other things.
With such options as a DVD system with detachable wireless headsets and a navigation screen, the Odyssey LX is a hard one to pass up.
Cheers,
Fashun Guadarrama.
About the Author: Austin-1