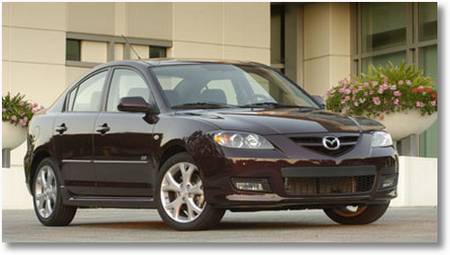 Mazda didn't hold back with this little car, which changed ways of thinking about compact cars back when its first version was released in 2004. This stylish and adventurous little number is a pleasure to drive and fuel efficient to boot. It's now a 5-door hatchback sedan, with square foglights and a newly designed front bumper. This little car is ready to go in 2007.
Upgrades include a reniforced shell, which improves the rigidity of its chassis. The steering response is quicker now, as well, and traction and stability control now come with the car. The car comes in two versions, sedan and hatchback, and they each have their own look.
Mazda3i Sport Sedan has a 2.0 liter with five speed manual transmission, four speed automatic optional. All season tires. Audio controls mounted on steering wheel.
Mazda3i Touring sedan has air conditiong, power windows and locks, cruise control, six speaker audio system.
Mazdaspeed3 five door has 263 horsepower with a turbocharged 2.3 cylinder engine, five speed manual transmission, limited slip differential, rain sensing windshield wipers, upgraded audio, an option to get naviagtion system.
Cheers,
Fashun Guadarrama.
About the Author: Austin-1