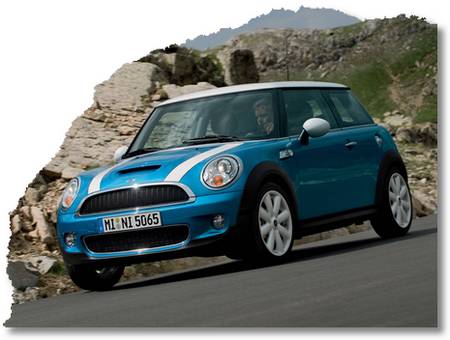 I have to admit to a bias when it comes to the Mini Cooper. This car, a tiny, innovatively designed character, is reminiscent of old movies in which the cars talked and the headlights blinked intelligently. I have a certain love for little cars, the kind of car that you can park sideways in front of the grocery store and still have room on either side without double-parking. Like all European cars, though, it's expensive and hard to fix, so that has to be taken in mind when investing in this adorable little number.
The Cooper comes with 120 hp, 170 in the Cooper S, and in the Cooper S as well its supercharger has been replaced with a turbocharger, which generates 177 feet of torque from 1700 to 5000 rpm, a big improvement from before.
Designed to comply to strict English standards for auto safety, the Cooper is significantly more safe than the more laxly built American cars. Even its panels have been built to be pedestrian-friendly. Even though the Cooper is the smallest four-passenger car in this country, it has been given more space this time around without changing its tiny, smiling features and comfortably fits four adults. Although you might not expect it, once the rear seats are folded down, it can even load quite a bit of stuff.
The Cooper comes with lots of possibilities for upgrades, so there's an option to buy the more bare-bones but still great economic version, or you could go all out and all the way up to luxury prices. Some of the options are
six-speed automatic transmission with Steptronic controls
sport package (rear spoiler, sports seats, sport tires)
slip differential
premium package (sport steering wheel with wood/leather trim, electric sunroof with front and rear shades, climate control)
convenience package (universal garage door opener, keyless access to unlock and start, rain sensor, auto headlights, mobile phone readiness, auto-dimming rear mirror)
cold weather package (heated headlamp, washer jets, heated seats)
navigation system
Even without all of those features, the Cooper is a fantastic car to have, but with them, you're really treating yourself to a great buy.
Cheers,
Fashun Guadarrama.
About the Author: Austin-1