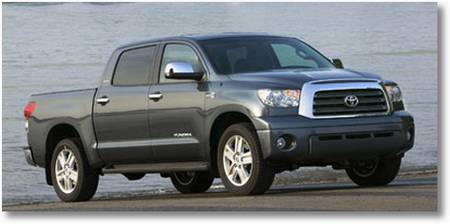 Putting aside a bit of the style that makes the Tundra resemble the trucks that passed before it, it's all brand new. This full-size monster of a pickup truck comes with a 381 horsepower and a ton of variations available. It has three styles, body-wise:
two-door cab
double cab with secondary doors on the side
four door CrewMax
You can choose between a V6 or V8 engine, rear-wheel drive or four-wheel, five-speed or six-speed automatics. The DX seats two, the SR5 three, and the Limited up to five or six. The combinations add up to 31 different variations. The ranges in cargo hold ability go from 1410 to 2060 pounds. Maximum towing capacity is a remarkable 10,800 pounds.
In the technology department, the Tundra offers an LCD navigation system along with an optional nine-inch DVD entertainment system. There's a console up front that's almost like having a home office right there in the cab of your truck.
The suspension design provides for a smooth ride and the slip differential a safe one. Some changes have been made in this line which allow for greater steering response and a more stable drive. The Toyota Tundra challenges notions of what a truck is.
Cheers,
Fashun Guadarrama.
About the Author: Austin-1