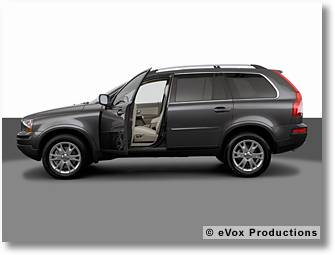 The Volvo company has been putting out family cars for years, but the station wagons of old that made it a big name and were a convenience for families everywhere are no longer as useful as they once were. Families may be getting smaller in general, but their need for space is growing at an exponential rate. Despite the fact that some critics consider it as 'selling out', is was only a time before Volvo wised up to the new way of things and ditched its station wagon to join the SUV culture.
The XC90 is this leap into the SUV world, but it still has a very station wagon feel, with its long nose pointing forward like a hunting dog. Last year, Volvo cut out all its 6 cylinder engines, but this year they make a comeback with its first model on the XC90. This 3.2 liter comes with 235 horsepower, which is not amazing but will do. More than a surprising, innovative car, the XC90 kind of slides by SUVs with its intelligence and well-built style. It's not as noticeable, but it is reliable, and for a family car that is the most important aspect.
The wheels react quickly and gently, but be careful that their responsiveness might cause you to jump a curve or to. The XC90 is a quiet car, comfortable but stiff. It is low on power, but also fails to meet the standard for mile per gallon usage, coming in at just 21 miles per gallon.
The XC90 is not the most flashy, nor the most comfortable, but is reliable and safe, easy to handle and comes from a line of vehicles that families have trusted for years.
Cheers,
Fashun Guadarrama.
About the Author: Austin-1