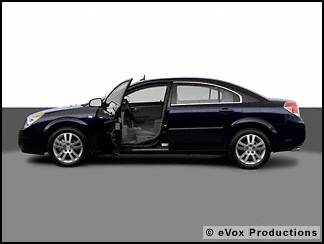 The 2007 Saturn Aura is an update on the reliable, steady line of Sedans that Saturn shoots out every year. This car counts as the maker's most competent addition to the truly competitive sedan market. It deviates a little from Saturn's standard design flairs, with a style all its own.
With the Aura, you can choose between two types of engines.
the XE has a 224 hp V6 with four speed automatic, and prices at just over 20k.
the XR takes it up a notch with a 252 hp V6 with six speed automatic.
Both are very economic in terms of gasoline, with ratings of twenty miles per gallon in the city and thirty on the highway. They are also both equipped with standard safety features, as well with various other features just for comfort and good handling that make the driving experience unique and pleasurable.
The XE comes with cloth upholstery, keyless entry, a six speaker sound system that takes both CDs and MP3s, cruise control, and automatic headlights. Its options include steering wheel radio controls, universal garage door opener, and a six CD stereo.
The XR comes with manual shift control panels on the steering wheel, climate control, six-disc CD changer, and fog lamps, among other things. It's optional add ons include those for the XE as well as leather upholstery, a sunroof, and XM radio.
The Saturn Aura is a pleasure to drive.
Cheers,
Fashun Guadarrama.
About the Author: Austin-1