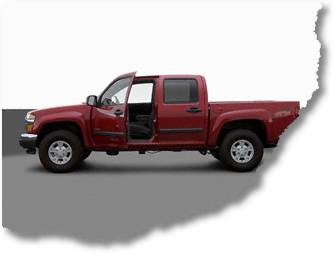 Isuzu is a company on the downfall, and only with the support of its ex-partner General Motors is it able to keep its head above the water long enough to release just the one new model. The I-350 is lonely in that it's the first product Isuzu has introduced on the market since 2004. So does it hold up, is it worth it?
This truck comes with an Intelligent Start feature, a feature General Motors added on to offset the alleged silence of the engine. What it does, though, is cause the truck to shake and make noises once it's started that just don't go away. Part of this is explained by the truck's five cylinders and the engine that's devoid of balance and causes the steering wheel to vibrate.
The 3.5 liter V6 comes with 220 horsepower, and you have to keep in mind that this is a smaller sized truck, although even compared to other small trucks, who usually have 4.0 liters, it comes out a little less. Its towing capacity is a mere 4,000 pounds, and you have to wonder, with numbers like that, why is it even a truck?
To compliment its better side, the I-350 does drive well and, despite the vibrations, is very stable. All the same, you get sick of it pretty quick as it jumps a little too much and the sound of the wind is more audible than necessary in the small cabin.
The Isuzu line is gasping, and maybe with this most recent release it has finally given up.
Cheers,
Fashun Guadarrama.
About the Author: Austin-1