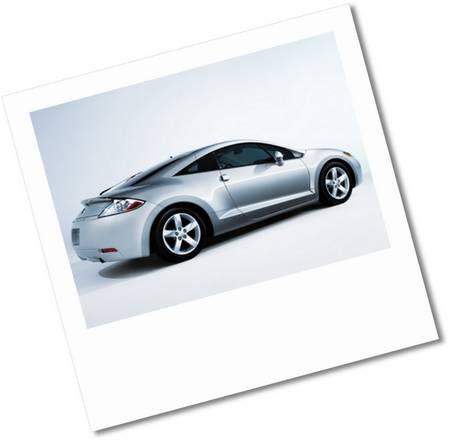 With its big end and small front, the Mitsubishi's slick 2007 Eclipse looks like a cat reared up to pounce. It's a mean car that just oozes attitude, and the perfect choice for people who want to say something with their choice of automobile. The Eclipse is not to be messed with. It knows that it comes out on top.
The four-cylinder engine provides brake acceleration, but a V6 is also available and both are extremely fuel efficient. The front area is more roomy this time around, and prices start just under $20,000. Even though it's technically a four seater, it's obvious that the back seat isn't really meant to be used with frequency. This car isn't meant for family outings, but for sheer style.
The four-cylinder engine comes with 162 horsepower and the V6 with a whopping 263 hp, and both are available in standard or automatic. The Eclipse comes with several in its line.
First is the GS, priced at just under 20 grand.
four cylinder with five speed manual.
Sportronic automatic optional
cloth upholstery
AC, cruise control, MP3, auto-off halogen headlamps
Sun & Sound package (power sunroof and stereo with six-CD changer cargo mounted subwoofer)
Accessory package (wheel locks, cargo net, unpainted alloy fuel-filled door, cargo floor mat)
Then there's the GT, at under $24,000.
263 hp V6 engine with six-speed manual and fog lamps
five-speed Sportronic automatic optional
Sun & Sound package
Premium Sport package (sunroof, six-CD stereo, heated front seats, leather upholstery, climate control, power drivers seat)
The Eclipse provides airbags for all occasions, with the standard front protection as well as airbags to protect the torso and head. It also features anti-lock brakes with Electronic Brake-force Distribution, which balances brakes for quick stops in emergencies.
The Eclipse is a safe car with some venom, and come with such an array of features that it's hard to pass up.
Cheers,
Fashun Guadarrama.
About the Author: Austin-1