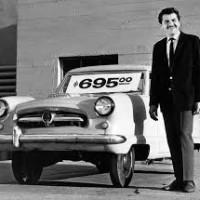 Buying a car, truck or SUV from a private seller.
Buying a used car from a private seller can be a hit or miss proposition.  There are a few advantages and disadvantages, let's look at them.
Advantages:
You can get a good feel for how the seller treated the car.  Look for maintenance records and receipts for major repairs.

No high pressure sales tactics.

You can get a better deal most of the time.
Disadvantages:
Sellers can be dishonest and hide major flaws with little liability after the sale since most used cars sold privately are AS-IS.

Most sellers will not let you take an extend test drive overnight like dealers do.

No warranty is provided unless there is an existing warranty and it can be transferred.
     To combat the disadvantages we now have online solutions to help you.  Find out if a seller is honest by getting a vehicle history online at CARFAX Reports. You can sometimes call your current auto insurance agent and give them the VIN number to check for past claims. .
If the seller has a factory warranty or an aftermarket warranty on the used car, make sure you check with the company to see if it can be transferred.  If it can not, check our advice on Extended auto warranties.
A few tips on finding a used car from a private seller.
Look to local papers, auto locator publications, thrift papers, local bulletin boards, and friends who might know someone selling.

Be courteous of the hour when you call.  Many people are in bed by 10:00pm.  If the ad states a time to call…… follow it.  If not, I would not call before 10:00am or after 9:00pm.

Have pen and paper handy when you call the seller.  Write down key facts like mileage, asking price, directions, how long have they owned the car and why they are selling.

Research the car online before you go to see it.  Having the "Blue Book" value in your head can give you a starting point for negotiating.

Have a mechanic look at the vehicle.  Most local mechanics will be happy to put the car on a lift and do an inspection for you.  Expect to pay for this service, but if you have a good relationship with you mechanic he may do this for free.

Take a long test drive.  Make sure you do some highway driving and also some back road driving to get a feel for the car.  Some suspension problems will not show up on the highway but as soon as you hit a bumpy road they will appear.
The best online used and new car quote service I have found is Car.com  I used them on my last car purchase, and they really saved me a lot of time and money.  A local dealership will email you their best deal on the car you are looking for.  No hassles, no gimmicks, no time wasted going to dealership to dealership.  Just the lowest price on the vehicle you are looking for.
One other thing to consider is additional insurance costs.  You better check the price of insurance on that car you are wanting, you might be in for a shock?
Used Car Checklist
When you are ready to go and actually visit and test drive the vehicle I highly recommend you print out and take with you our free Used Car Checklist, which should really come in handy!
Austin Davis,
The honest Mechanic
Austin Davis, consumer car repair advocate. "Hi there! I love to help people solve their car repair problems and I hope my site was helpful to you today. Thank you for stopping by."