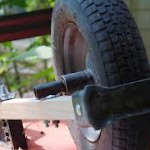 Austin, I know your site is about car stuff and I have learned so much from you and your site over the years I owe you a BIG thank you.
My husband does all of our outdoor stuff around the house and the tire on our wheelbarrow is old and will not hold air anymore. Where do you recommend we buy a good new tire for our wheelbarrow?
Doris G.
Hi Doris, thanks for the kind words.
You can buy tires for your wheelbarrow at many chain stores like, Lowes, Homedepot, Sears, Walmart etc.
Personally I buy all of my outdoor equipment from Tractor Supply Store, www.Tractorsupply.com because I feel their stuff is more "heavy duty" and made for the person who uses their equipment to make a living and depends on it lasting long and taking a beating more so than Homedepot stuff that is used on the weekends by DIY type of people.
Now, what I would recommend in any case is you use a product made for Wheelbarrow tires offered by Green Slime called Smart Tube. You can inert this tube inside your tire and it will help prevent flats for up to 2 years, although I think it works much longer than that in my personal use.
So if your current tire tread is in good condition with no major cracks or cuts you might be able to just install this Smart Tube inside your existing tire.
I use a bottle of Green Slime in all my outdoor equipment that has an internal tire tube and it works wonders, never have to deal with a flat again. :)
Hope this helps
Blessings,
Austin Davis
Austin Davis, consumer car repair advocate. "Hi there! I love to help people solve their car repair problems and I hope my site was helpful to you today. Thank you for stopping by."