I can't get my windshield wiper washers to squirt water. I have checked the fuses, filled up the fluid bottle and made sure the nozzles are clean but still no fluid is coming out. Where is the washer pump motor?
Doug
Hi Doug,
Most windshield wiper washer pump motors are located inside the washer bottle or at the bottom exterior of the washer bottle. Here is a picture of a black washer pump motor.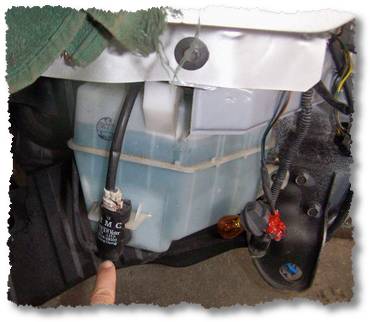 The front bumper and a few other items have been removed from this vehicle in the picture…getting the washer pump or the washer bottle out of today's vehicles is not a quick and easy job like it used to be. Small hands are definitly a plus!
Blessings,
Austin Davis
Austin Davis, consumer car repair advocate. "Hi there! I love to help people solve their car repair problems and I hope my site was helpful to you today. Thank you for stopping by."